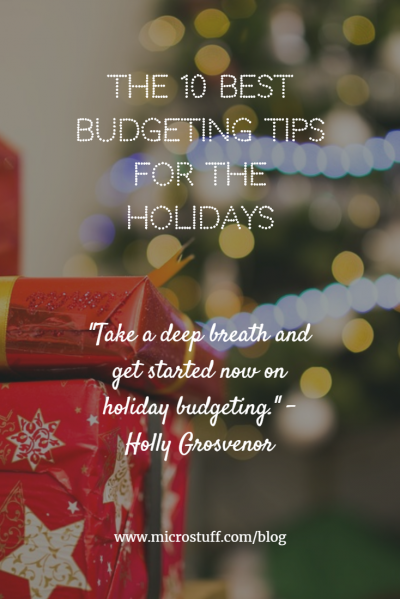 Updated for 2020! Budgeting for the holidays doesn't have to be as tough as it may feel. Here are the 10 best budgeting tips for the Holidays that I have personally done myself and have learned from others over the years.
The sooner the better.  Let's get started:
Tip 1: Write it all down!
I know this is super simple and you may roll your eyes but it is the truth. Getting organized is the best way to get started.
Party Planning. Unfortunately, due to COVID we will be doing these events socially distant or online using Zoom or Google Meet  
Are you having a party?
What supplies do you need?
Can you reuse what you already have?
How much food do you need to buy?
Gift Giving. Create a list of people and what you want to purchase for each of them.
Who do you want to buy presents for?
Family members?
Kids?
Friends?
Your kid's teachers?
The mailman, trash collector, or other contractor?
Office Co-workers?
Tip 2: What have you saved up for so far? Looking at your budget now is the best time.
Look at your current budget and see what you have saved up so far. That way you know what you need to adjust or how to be creative with what you have left to spend. If you are tight on funds this is a good way to think creatively.
Tip 3: Ask your family to create wish lists.
It is so nice to have a wish list to confirm exactly what they want. We have our kids create a wish list from Amazon and it is great for them to learn what is available and how much it costs and also what they really want.  In a lot of cases, they ask for spending money so they can save.  I wonder who taught them that.  🙂
Tip 4: Limit what we buy the kids
We like to limit gifts because it does add up fast and we would rather spend our money on vacations and experiences then on things. Santa also limits his spending too.  Since we aren't going on vacations instead we have switched some of our vacation money into experience things at home like buying a projector to watch movies outside, and building a zipline outside.  
We like the 1 want, 1 need, 1 wear and 1 read gift giving. We admit we like the read so it might be more than one book. Thanks to our local used book stores, like 2nd & Charles or McKays, and our local thrift stores, like Savers, have a great selection of books. There are a lot of fantastic used book stores online now that sell used books from all over the country.  It helps that local community too.
Tip 5: Shop all year long or as soon as you know what people want.
Spreading out the spending is the best method since it is done throughout the year and it also reduces the stress. Keep out for sales at other holidays not just specific to Christmas or Black Friday.
Tip 6: Family Secret Santa
To limit the spending in our extended family, we as a family have decided to do family secret Santa and we now know a year in advance, who our secret Santa person is. It helps limit the spending on just "stuff".
Tip 7: Using what you have.
Do you have any extra gift cards lying around?
Besides looking at the budget and thinking about what items you want to give. What about giving gift cards you already have. Or using the gift cards to purchase gifts with them.
Tip 8: Buying gift cards. Looking for deals for them.
Gift cards are super popular to give and receive. There are some deals to be had but you have to do some searching.
Using a credit card to purchase them. If you have an American Express Blue Preferred Card you can earn 6% back when purchasing groceries and you can purchase gift cards at most grocery stores. Win, win! Chase has offered discounts on purchasing gift cards in the past.  But, make sure you pay that credit card off.
You can find deals at stores. Target usually gives a discount around Black Friday for gift card purchases. CVS also gives discounts and deals for gift cards during the holiday season. Grocery stores also give discounts towards gift cards all year long towards gas rewards or discounts.
Purchase gift cards at a discount. There are websites that you can resell and purchase gift cards at a discount. Paypal now offers gift cards at a discount when you purchase directly with them.
Tip 9: Making gifts instead of buying them.
We like homemade gifts a lot since we like to use what we have and it sure is satisfying to create something special.  Our kids have been having a great time going to the Dollar Tree and purchasing some of the wooden cut outs and decorating them as gifts and decorations for the house.
Thank you cards
Thank You cards can be created by your kids for the teachers. It is a simple project, fun for the whole family and doesn't cost a lot or anything at all. You just need some card stock like paper and plain paper.
Sewing
Creating something like a pillow or apron are easy to do and don't need a lot of fabric. You can find some free patterns online and I suggest searching Pinterest.
Holiday Treats
Don't forget yummy holiday treats to share with family and friends.
Tip 10: Giving! Start looking at what you have to give and create a plan on doing that.
This is a great time to start looking at what charities you want to give to. Giving Tuesday is December 3, 2019 this year. Ask your employer, if they do a company match!
Start early on shopping and creating.
That's the 10 Best Budgeting Tips for the Holidays.
The sooner you get started the less stress it will be. I know this is easier said than done. Take a deep breath and get started now on holiday budgeting. What I like to teach and coach is planning and positive habits so you don't get stressed out or at least as much and you don't put yourself into debt for the holidays.  Keep your goals in mind.
I provides one-on-one coaching on basic personal finances (goals, debt reduction, spending and savings plans) to couples, parents or soon to be parents. I believe that more couples should be educated and taught how to budget and how to manage everyday financial matters together.
What tips do you have for holiday budgeting?