This is updated as of 1/6/2023. Caveat:  There are some affiliate links in this post.  I may receive cash benefit or discount for recommending products.  However, I will only post about products I think are worth it.
Why YNAB is better than sliced bread!
It was 2014 and I was searching for budget software and small business accounting software.
Why you may ask?  
I was not a fan of Quicken, and Quickbooks.  Both had their limits and huge learning curves and a high cost. I had several bad experiences trying to upgrade from one version of Quicken to another and dealing with files I could no longer open.  After wasting hours on trying to make it work I was frustrated. Microsoft Money was long gone and I had used that for a couple years (remember Microsoft Money? Now, I'm feeling old.) It used to be a competitor to Quicken.   Hahha!
For several years I was using Mint.com and spreadsheets to track our spending while we were doing what some call an "anti-budget method". 
Anti-budget is simply the method of not tracking every detail by creating automatic savings and then spend the rest as we wished.
It was working for us. We had good savings and we were not overspending.   It is still a good method for a lot of people.  At that time I  also manually tracked past spending. I was also trying to figure out how to track my expenses for my small craft business.  

I kept stumbling on the website called You Need a Budget or YNAB (Why-NAB) for short. Their system seemed promising. It wasn't free but it had a free one-month trial. After the 5th time I saw it show up in my searches I finally jumped on board and tried it out.  
In one month I was hooked!
No joke.  
I was excited about a budget program!

I took all of the FREE classes, read the blog and followed the step by step simple instructions.
You Need a Budget is now a web-based subscription budgeting and accounting tool. I am a subscriber and I love it.  The company behind YNAB has the best customer service in the world. 
Full disclosure:  If you use, my affiliate link, you get 30 more free days and I get 30 free days free too.      
In no time my husband and I realized we could save even more!  
Plus, we weren't stuck in the anti-budget method of being concerned about having enough sinking funds for the 6-month car insurance, or yearly home insurance or the 6-month real estate taxes. In the anti-budget method, you still have to make sure you are saving enough each month so you don't overspend when you have big expenses to pay.
We also created positive cash flow automatically using YNAB. I talk about positive cash flow in an earlier blog post which you can read here.
4 Simple Rules – You Need a Budget (YNAB)
The rules in YNAB are awesome!   They capture the best principles of personal finance and convert them into simple actions that you can perform. I love them.   You don't even need to use their software to implement these basic principles.
Give Every Dollar a Job

– This is zero-based budgeting. You are in charge of your money so when a dollar comes in you tell it what it will do. Saving for the future, buying movie tickets, buying cat food, or buying gifts for the cousins? You decide!   

Embrace your True Expenses

– Here YNAB is talking about your sinking funds or those big expenses like car insurance, house repairs, Christmas gifts, or car repairs there is a category full of money waiting to help out when you need it.

Roll with the Punches –

My favorite rule because it is realistic. You won't know exactly what is going to happen this month when it comes to grocery shopping or gas prices. You hope you have the best idea. You don't sometimes. That's ok!  When I looked at budgets in the past, if we overspent in a category I felt like we failed. That's not the case in YNAB. It just means your priorities changed and you need to adjust. In practice, that means if I overspent in groceries then my eating out category needs to be adjusted.

Age your Money

– When you get to this stage, you don't have to think about money. Positive cash-flow in YNAB means having at least 30 days of income saved up. YNAB refers to it by saying instead of spending this month's income you are spending last month's income. Think about it. Instead of spending February's income you are only spending January's income so February's income is being budgeted for March expenses. Ding! Ding! Ding!  You are saving. You have a buffer. You are getting ahead! It is life changing!
It didn't take long to age our money to 30 days, and then to 40 days, and then to 50 days, and then to 60 days of spending.

YNAB changed everything!
In the first year of using YNAB, we estimate we saved thousands of dollars.  
Yes!  You read that right.
Thousands!  
We really could see instantly in the software that we were on the right path.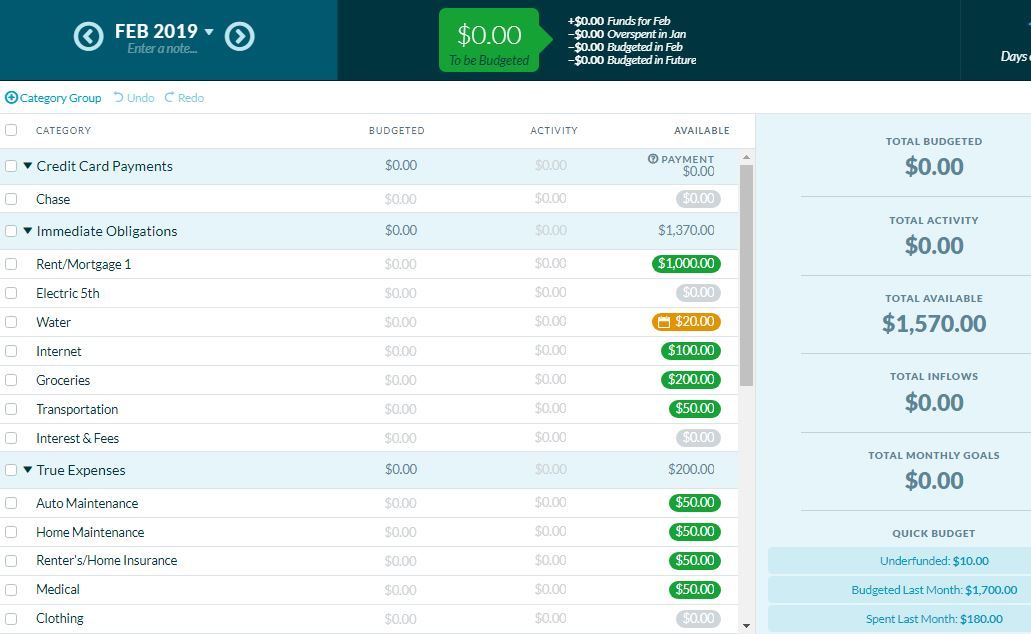 Why?
YNAB isn't your typical budgeting software. The creators of YNAB wanted a system that makes the user have full control over their money today before it is spent, instead of just looking at where it went at the end of the month. Most other software programs look at the past, not the present.  
After the fact budgeting is not budgeting at all. It is tracking.
Budgeting in real time is the best method.
Before I even go into the grocery store I know how much I can spend.  See in the image above (using this sample budget) I have $200 to spend.
If I overspent in groceries, YNAB would let me know with a red number so I know I need to adjust in REAL time.
We saved by decreasing our grocery spending, eating out, clothing, household, and hobby expenses to a more realistic budget and realized we had been spending more and could save more and now intentionally spending less.  
We now believe we are valuests which means we focus on the value of something.  We spend intentionally.
What does zero-based budget system mean?
It means setting your budget to $0.00. You budget only the money you have and NO more! This is very critical to how YNAB works.  In the image above you will see it says $0.00.   I have given each $1 a job in my budget.
If you spend more or try to plan to spend money you don't have now (spending money you expect to have in the future) YNAB will stay in the red. You want  YNAB in green. It is immediate feedback and it makes making changes to your personal spend plan easy.
Plus, this can be done with cash, checking and even credit cards.
Budgeting money you don't have yet is called forecasting.
Forecasting is best to do in a spreadsheet but you have to remember that you don't have the money yet.  
You Need a Budget Software (YNAB) helps you pay off Debt Faster
At the time I found YNAB, my husband and I were already debt free except our mortgage. I wish we had it when we did have debt because I believe we would have paid if off faster.   I have helped clients and people with YNAB setting it up so they can pay off debt.  It's very simple.  Follow the rules above and remember debt is one of those expenses that is a priority in your life to pay off.   I do encourage balancing paying off debt and increasing cash flow.   The two work together.   You want positive cash flow which YNAB encourages.
By using the 4 simple principles we saved more.  You can too!
In the past, if we were overspending we could see exactly how much we spent on groceries and eating out which is an area we tend to overspend. At the time we had a growing family and the food budget was increasing. (Today, I budget for a higher amount because the kids eat even more.) Since we were aware of what we were spending we found the way to reduce the expenses and in no time we created an additional buffer of a month of money (outside of our emergency fund). YNAB helped us do this because it allowed us to plan.

YNAB is such a great tool because you can customize it to make it work for you and your family.  You can create as many or few categories you want.
In 2015, I joined the YNAB Facebook fans group, which I highly recommend. There I met others and learned more about budgeting tricks. In that space, I was introduced to many different terms that I had never been introduced to before including  — "Bogleheads", and "Financial Independence" Community or "FIRE" (Financially Independent Retire Early). 
In addition, YNAB works great as a cash flow system for a business. I use YNAB following the principles of Profit First.
Cost of YNAB
There is a cost for YNAB and currently, it is $99.  I create a goal in YNAB for all of our subscriptions that we find worth it and create a goal so each month $8.99 is saved for YNAB. Similar to $14.99/month for Netflix or $115/year for Amazon Prime.   
Financial freedom is worth it. YNAB has fantastic customer service and money back guarantee. Knowing we are on the right track is worth it! It seriously takes one huge stressor off of our minds.
One on One YNAB help
In 2018, I started this coaching business and I teach YNAB to my clients. As of the fall of 2021, I was a certified YNAB coach.  If you don't want or need full financial coaching, I can also help you with YNAB-only consulting. If you have any questions or would like to set up YNAB to work for you too, we can schedule short YNAB sessions via phone or video screen-sharing.
Subscribe to my Newsletter and get a FREE copy of my Financial Checklist