Yummy Challah Braided Bread made in the Bread Maker
This is a super easy recipe to do it in the bread maker. It does take some time but it is easy since the bread maker does the hard work. Give it a try and let me know how it goes. It is a great recipe for any holiday event.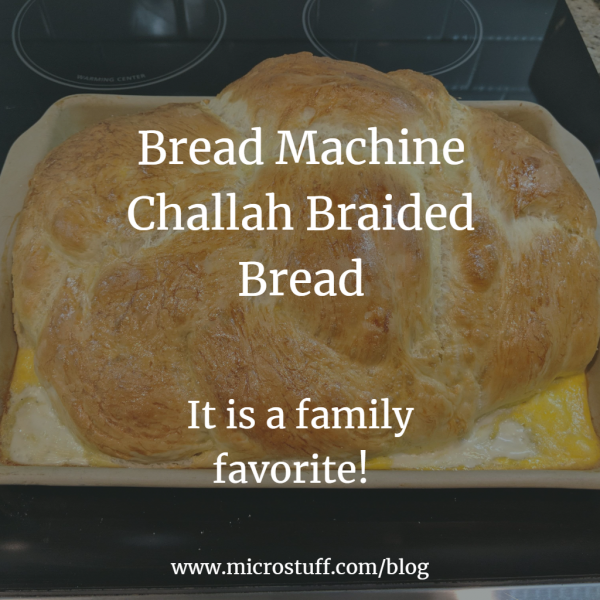 Bread Machine Challah Braided Bread
This is my version of an adapted bread machine cookbook recipe that I have been using since 2004. It is a family favorite!
Ingredients
2

egg

Eggs

Room Temperature

1 1/2

cups

Warm water

To make 1 1/2 cups of warm water and 2 eggs The water should be 80 degrees.

2

tbsp

Sugar

2

tsp

salt

1

package

Bread Machine Active Yeast

or 2 1/4 tsp Active Yeast

1

egg

Egg

Egg Wash

1/4

cup

vegetable oil

4

cups

Flour
Instructions
When I'm about to make this bread I will take my ingredients out about an hour or so before I start. That way everything is at room temperature. Start with the wet ingredients. Most bread machines suggest wet and then dry. Some say the opposite. After making this with 2 different bread machines I'm convinced it is best to do wet and then dry. Then add the dry ingredients just as listed above. Create a "well" for the yeast and place it in the "well".Follow your bread machine instructions for program DOUGH or White bread manual. You don't want to bake this in the machine, because it is too large. Press START and walk away.Place on a lightly floured surface. Divide into fourths. Use a pastry cutter with some flour dusted on it.  I prefer this style of braid but you can divide in as many braids as you want.  Then roll out the braid strands and braid it as usual then tuck the end under. Place the bread on a cookie sheet, and place a clean kitchen cloth  on top and place it in a warm location in the kitchen or proof in your oven if you have that option so it will rise a second time.  The bread should be double in size.  You can heat up your oven and then turn the oven off so that the warm oven can speed up the process.After it has risen the second time, brush on the Egg Wash. 1 Egg1 tsp waterPlace in a 350 degree oven for 20 minutes until the crust is a light brown and glossy.I like to let it rest after I take it out of the oven so that moisture can escape before storing it.  If you need to do that.   Or if you are making this for Thanksgiving just cut into it after a minute and you will have the best bread.  I promise it will be gone!   If not, it will make great turkey sandwiches.

Enjoy!