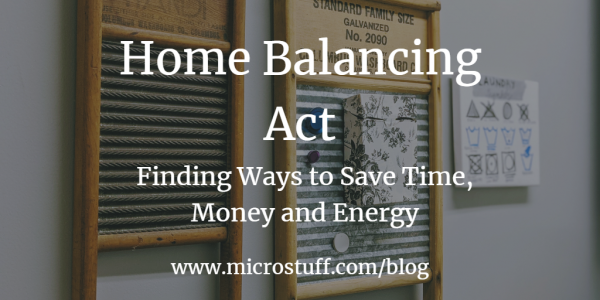 Home Balancing Act
This is a tough time for parents and kids of all ages and it is a home balancing act. We have all been stuck at home for months doing our part to minimize the spread of the Coronavirus. Our family has limited our outings to a couple stores and only when we need something. We are so blessed we work in the positions that we do. I work at home and do all of my calls via Zoom or Google Meet and I also take care of the kids. While my husband works in an office which has had very strict guidelines since March to keep all co-workers 6 feet apart, wear masks, use hand sanitizer, and daily temperature checks. Plus, they work a staggered schedule so they can have fewer people in the office by having people come in at different times. Some families we know have both parents working at home. Some have both parents working out of the house and have children in daycare with social distancing enforced. It definitely varies and we all agree it has been a very stressful time for all.
Now we are heading into a new school year. After a lot of talks and surveys and complaints our county made the decision to start the school year online this year.  
Lots of questions are still unanswered. It is hard for any of us to answer them.
So what should a parent do?  
Or a school district that has kids in school and then later the school closes?  
Or a school district that is hybrid?  
How do you manage it?
The best advice I have found is to have a couple plans available just in case.  
I thought I would put together some ideas and tips on how we as working parents are juggling our kids, school and work at the same time. Remember there is no right or wrong answer.  We are all doing the best we can with what we have been handed.  
Note to all Employers: 
I want to also say to all employers to remember that you need to be super flexible with all parents at this time. We are all dealing with a new and unexpected situation and we really need the employers to remember that they want their employees happy and less stressed. Right now we need some extra support during this transition. 
Create a Schedule
In all of my research and my own personal experience it makes a lot of sense to create a rough schedule. I think since June, I have put together at least 30 different schedules since there were so many changes happening. To me that inconsistency drives me a bit batty. I like having a schedule and my kids do too. They thrive on knowing what is happening and what the plan is. We also practiced not having a schedule this summer and went with random activities like a  movie on Disney+ in the morning and outside activity in the afternoon. It was fun and entertaining. The weather has also been hot, dry and now rainy so the schedule has not been perfect.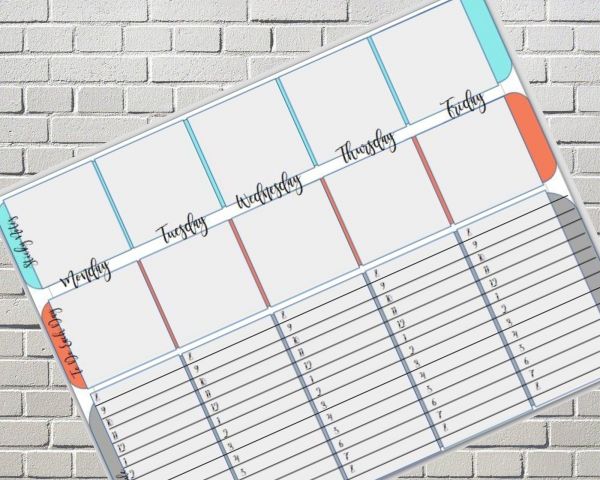 The top part of the weekly calendar has room for small sticky notes so you can write down categories and then space under those categories for ideas. 
For example:  
Chores – Laundry, Dishes, Trash, Recycling (they need to be done)   
School – Projects, Reading, Homework   
Exercising – Walking, Dancing, Bike Riding   
Fun Activities – Art, Sewing, Metal working   
Having an idea list helps because when you need to go to Plan B or Plan C you have other activities you can work on. 
Then the second area in the worksheet includes the actual To Do Each Day. These are the prioritized activities that you want to get done. 
Examples: 
Work on Projects
Do the Dishes
School
Take out the Trash
The bottom of the worksheet is the weekly schedule. That way everyone is on the same page. Lunch is always at 12. School starts daily at 9:00. Dinner is at 6. Bedtime is at 8.  
When everyone has a say on what the schedule is it is a lot easier to get them to help and cooperate.  
Don't over complicate things!
Just put in the minimum that needs to be done. Remember that little ones can help too. Here is a list of chores that kids can help with by grade level. This is just a starting point. Think about what is a priority in your family. Designate a time for things to get done. In our family we try and get chores done early in the morning after breakfast. We know this school year we will have to change that to the afternoon after school is done. Getting your kids involved to help out on a regular basis it is life changing!  We do the best we can to make it fun!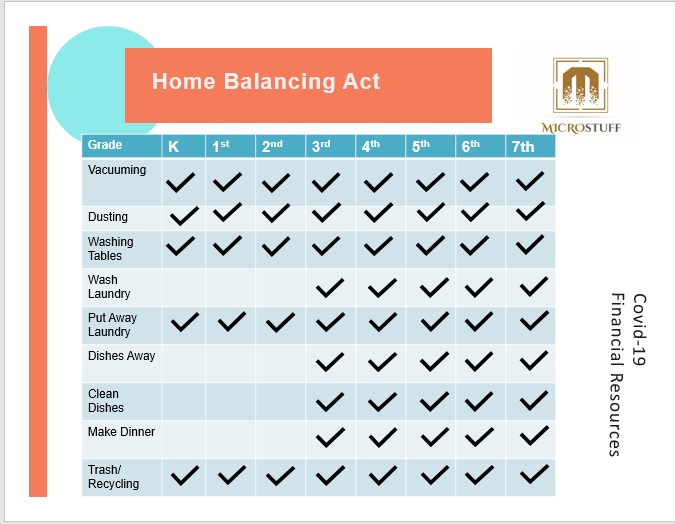 Digital Calendar – Google Calendar
If you don't like paper and pen or you tend to use digital calendars instead there is an alternative. I love using a Google Calendar. It is a very powerful tool. In it you can create multiple calendars and share events easily with other family members.  
The first step I suggest for this coming school year is to create a new Google Calendar with the dates and times of the school daily schedule you know that are happening now and include repeats for the future. Here is a simple tutorial on how to create a school schedule right in Google Calendar.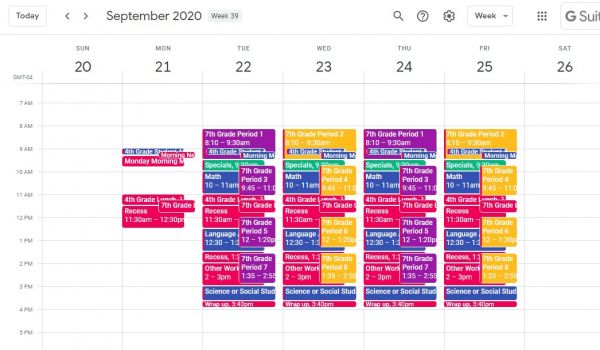 Here is a sample schedule of Plan A in Google Calendar. You can create more than one calendar and have them overlap so they won't affect your other calendars but you can still see them and edit them. 
Then using your calendar you can add in your work schedule and balance out when you need to help the kids out. I will note the first couple of weeks is going to be a little intense to say the least!  This is where you need to be patient with the kids adjusting to the new schedule and you too.

In this sample schedule, I can get some work done in the morning from 8-11 with a couple moments in between to check that the kids are making transitions between tasks. (For Kindergarteners through 3rd graders they will need more support getting online.) From 11-12:15 is available for lunch and a break time with the kids before they will get back online. I can work again from 12:20-1:30. Then when the kids go play and do some work. When my husband comes home we can also tag team and he can help them in the afternoon while I get some additional work and meetings done. 
As a Plan B, if or when, in-person school starts up again.  We will adjust to that schedule which will be identical in hours but they would be in school.  The school may adjust, of course, and we will adjust to that if that comes to it.  
For those that are doing hybrid like on and off school schedules and classes are cancelled or you are moving to all online classes, I think it would be best to put together two separate calendars for school so you can adjust them, if necessary.  
Finding Ways to Save Time, Money and Energy
It is so important to use your time wisely. Since we are on the bandwagon of talking about time and energy we also want to talk about how we can save some (and hopefully money too).  Everyone prioritizes it differently and that's ok.
Cooking
I have to admit I hate to cook. I have been a stay at home Mom for years and I hate to cook.  I said it!  
I don't feel bad about it either.  For years, I felt bad for feeling that way but now I have accepted it and I am figuring out ways to solve the problem.  
How do we solve this problem?
Tag Team with your Family and Use your Appliances
My husband also doesn't like to cook either.  To balance our dread for the task we work together and tag team on making dinner and meals. It has worked really well in our household.  We also have the kids contribute too.  All three love to bake and make bread and they all can make basic meals like macaroni and cheese, sandwiches, salads, and use the oven.
We love cooking short-cuts.  This year we are going to invest in a second Instant Pot.  We have owned one for 4 years now and were actually one of the first adopters of the technology since it went on Amazon day sale.  A friend suggested it and I jumped on it.  We use it several times a week for making everything like frozen or fresh chicken, ground beef, soups in the winter, chili in the winter, hard-boiled eggs, and rice.  We find ourselves lately wishing we could make rice, veggies, sweet potatoes or hard-boiled eggs in another one while the meat is being cooked in one. We can have the Instant Pot running while we are helping the kids with school work or finishing up a blog post.   We are a family of 5 and the kids are starting to eat quite a bit more too.  
We also like to use the Crock Pot with a timer. We can put a freezer meal in the fridge the night before and put the meal in the Crock Pot or Instant Pot based on our scheduled time and a timer on the Crock Pot.  
The  Cook Timer on the oven is a great feature to use too.  Yes, your oven has a cook timer.  Which is part of the appliance world so many miss out on.  You can set your oven temperature and oven timer so that when you put the item in the oven the oven will automatically turn off when it is done. That way you don't waste energy and you don't burn the meal.
Meal Planning 
Meal Planning is all over the internet and there isn't someone out there with amazing recipes to try.  Here I have created some boards on Pinterest for you to take a look at. 
I bet you already have a great list of meals that are easy and are your go to meals.  Sometimes meal planning is overwhelming because it is new and different for your family. I suggest just look at the regular meals you already eat on a regular basis and see what they cost and write them down.  
Do they fit into your budget right now?  If so, great, keep doing it.  
If they are costing too much right now adjust that meal to a cheaper meal.  Maybe try a different meat or a veggie version of the same meal.
Here is a sample of what we enjoy as our weekly meals. Most of this can be done in the instant pot, or Crock Pot or a quick stove top.
Sunday – Buffalo Chicken Dip and salad

Monday –  Hamburgers, homemade fries and salad

Tuesday – Tacos

Wednesday – Rice and Beans 

Thursday – Grilled cheeses and carrots

Friday -Pizza and Salad

Saturday – Jerk Chicken Nachos
Besides internet searching for meal plans and grocery lists.  Seriously, do a search for your regular grocery store and you will find someone has written a blog post about a meal plan for your favorite store.  If not, let's create a post about it!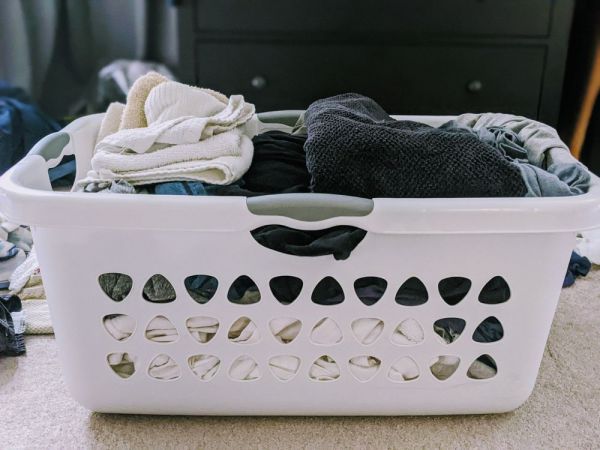 Cleaning Tips and Tricks
Laundry
My other dread is putting laundry away.  I admit I like doing laundry because my washer machine does the work.  Hahah!  My dryer is amazing!   I just don't like putting it away.  In order to combat that dread besides hiring someone, I have it set in my schedule to put away at least 3 loads a week.  
Guess what?!  Is it necessary to put it all away.  No!  It is more necessary to get the laundry washed and dried.  Right!?
So having clean laundry in laundry baskets is okay!  
I said it!  Clean laundry in laundry baskets is okay!
One more time, it is ok to leave clean laundry in laundry baskets!  
Plus, it is okay to have kids do the laundry!
I also created a Pinterest board on some amazing cleaning tips and tricks.  Remember you don't need to do all of these things. You just need to do what saves you time and money.  
In the mornings, is when I do the laundry so by the evening I can have it in the dryer or hanging up.  Then at least 3 days I fit in putting at least 3 loads of laundry away.  I also have the kids help with this and have for years.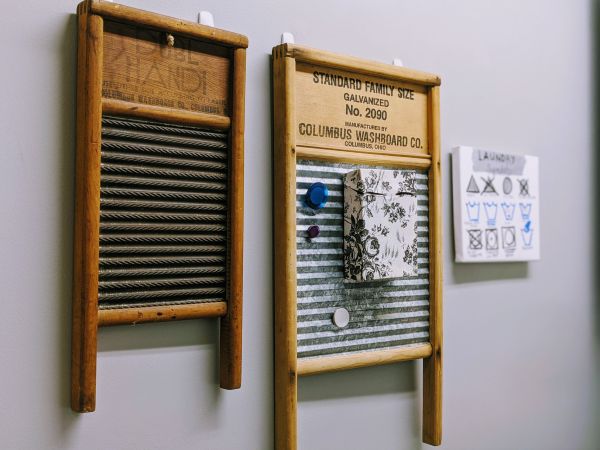 Cleaning Tips
My favorite cleaning tip is using products that are concentrated so you can mix them with water and use a lot less.  I use several different brands since I like to try new things out. There are so many different ones out there but the cheapest and easiest to purchase anywhere is Simple Green (this is not an affiliate link just me sharing that I like this product and purchase it myself) since it works so well easy to dilute with water and cleans everything in the house. I love the dilution bottle since you can make it any strength you want.  It usually comes attached to some of the bonus bottles like at Home Depot or Costco.  

Plus, adding it to laundry is amazing! I have a top load washer machine. I soak white socks and add a ¼ cup of it with laundry detergent and the socks come out so clean.  You can do the same in a bucket and later wash it in a front load washer. 
If someone asked me, "Which cleaning product do I recommend?"  I would have to really think about it since I like a lot of them right now.  I would say right now Simple Green.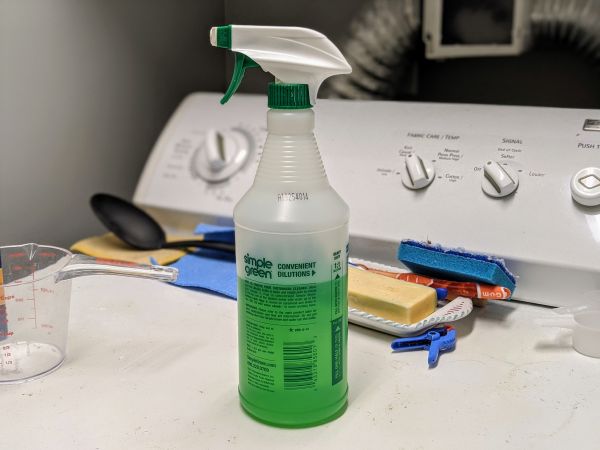 Taking Needed Breaks
This is where I suggest taking the time to look at your schedule to include time for needed breaks for yourself and your family members. This might be hobby time, family time, or even alone time. Be creative because you can make family time also the needed exercise time. We found that bike riding and walks in the woods has been a great way for our family to connect and exercise at the same time. 
Reading time sessions for the whole family including everyone must read for 30 minutes. This gives each of us a break and time to fill our buckets (see what I did there.  😉  (By the way, that is one of our family favorite books!)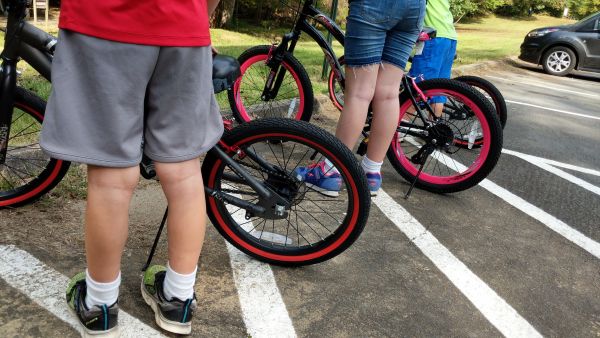 Other Resources and Ideas 
First and foremost, you are not alone. This is a tough time and not easy on any of us. It is so easy to get distracted and sucked into multiple areas. So remember to look at what is the highest priority. For us it is eating, sleeping, school, exercise and basic work. We will only focus on basic chores and we will work as a team to get them done. 
Like our schedule this year, I expect this article will change over time. Check back in soon!