This is how we spend under $35 for our Thanksgiving Dinner! There are a lot of ways to make a Thanksgiving Dinner for less than $35. Here is what we do and I will also include some other cost saving ways to get it even less.
Our favorite foods for Thanksgiving!
Menu
Roasted Brined Turkey
Stuffing
Broccoli casserole
Mashed potatoes
Gravy
Homemade Bread
Homemade cranberry sauce
Apple Pie
Free printable
I created this handy .pdf printable of our menu.  You are welcome to print it out.
As a bonus I also created a blank version of the .pdf printable so you can create your own.  You can use a white crayon, white pencil or chalk after you print it.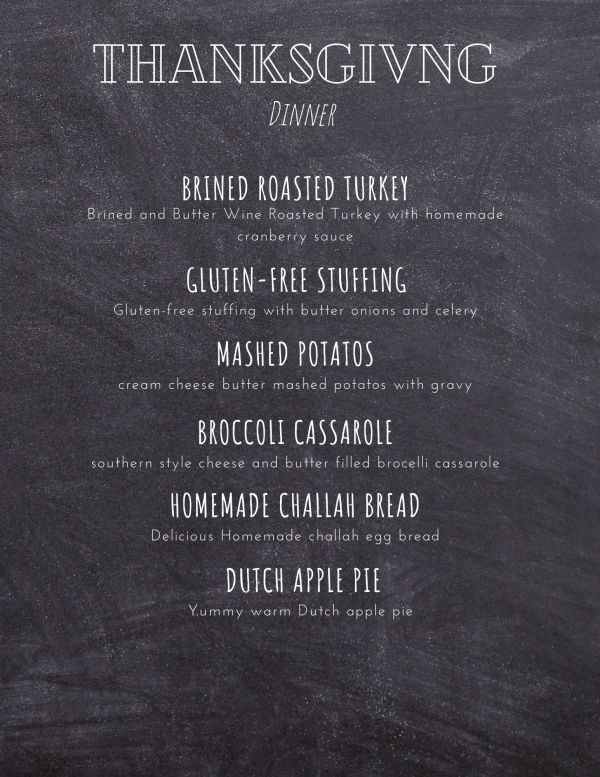 We look for the best deal on the Turkey. In our area, we are fortunate that we have several fantastic grocery stores within the 15 miles radius or so. We love Aldi and Lidl but notice that the local stores like Giant, or Safeway tend to have better deals on Turkeys. In some cases, Harris Teeter or Wegmans have better deals but they are farther away from us. Giant is excellent in advertising that they won't be undersold on Giant Grade A Frozen Turkeys and will match any competitor's advertised Turkey price. As long as we spend $25 purchase excluding the turkey. The best part it is is limit 2. So if you have freezer space you can get 2 Turkeys and do another one later in the winter or for Christmas. Win win!
I went to Giant this week to get the Turkey at $.39 a lb so the cost was $5.39! Since we needed to spend at least $25 excluding the bird we also purchased this week's essentials like bread, ground beef, veggies and fruit. 
Turkey $5.39 (Look for Turkeys at even $.36 a lb.)
Gravy $2 (You can make homemade gravy for free!)
Gluten free Stuffing from Aldi $3 (there are lots of recipes to use bread crumbs, or stale bread to make this a lot cheaper. Plus, Aldi has a great stuffing for $.69)
This coming week we will be getting the rest of the ingredients.
Here is the shopping list:
Bonus:  I created a Google Sheet template called Microstuff Template Thanksgiving Dinner Shopping List version so you can edit it and take it with you.
Turkey Recipe calls for:
Turkey $5.39
Salt Kosher 1 cup $1.00
Brown sugar and spices $0.25
Butter $1.67
Wine $2.89
Cheese cloth $2.50
Stuffing $2.00
Gravy Jar $2.00
Olives $0.69
Celery for stuffing $0.49
Onion $0.25
Broccoli Casserole
Frozen Broccoli $4.00
Velvetta cheese $3.00
Butter $0.42
Cottage cheese $0.84
1 egg $0.07
Mashed Potatoes
Potatoes $1.00
Cream cheese $0.59
Salt $-
Pepper $-
Butter $0.42
Homemade Challah Bread
4 cups flour $0.12
Yeast $0.25
2 eggs $0.13
Cranberry Sauce
Cranberries $0.89
1/2 cup sugar $0.06
Apple Pie $3.49
Total $34.40
This feeds at least 8 people.  In our case 4 meals for our family of 5 since we have plenty of leftovers. Which makes it approximately $1.72 a serving! Usually we can take Turkey and make a few more meals out of it like Turkey sandwiches and Turkey potpie.
I love Thanksgiving dinner! I am so grateful we can create it at such an amazing cost. We are going to miss seeing our family this year and plan to video conference with them. In the morning we plan to watch the Macy's day parade.
What are your favorite foods to eat at Thanksgiving?  What are your plans this year?
There are a lot of other great money saving suggestions for Thanksgiving dinner. Check out these posts these are just articles and specials I found very interesting these are not affiliate links:
Walmart and Ibotta have teamed up to offer $20.27 rebates for Thanksgiving dinner items – Ibotta
7 Simple Ways to Save Money on Thanksgiving Dinner – Smart Money Mamas
Aldi is selling Thanksgiving dinner ingredients for less than $30 – Bring Me the News
Cost of Turkeys in 2020 – CNBC