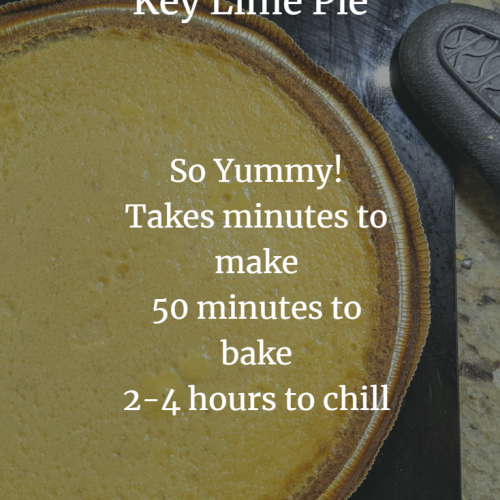 Dairy Free Key Lime Pie
Yes! You can have yummy dairy free key lime pie. After researching and trying this experiment recipe it came out amazing! I love Key Lime Pie! A dear friend does too but she is dairy free and I am gluten free. I used a gluten and dairy free store bought crust. I used Oat Milk but a 13.5 ounce can of Coconut milk can be substituted. You can use any store bought graham cracker crust that you like. Aldi has one for $.65 that is not gluten-free but is dairy free. Our local grocery store Mi-Del which is allergy free and we have been able to find it for $4 or less. You can also make your own graham cracker crust.
Ingredients
1 ¼

cup

oat milk

You can substitute it for 13.5 ounces coconut milk. Oat milk is thin nut juice so you don't need as much as coconut milk.

10

tbsp

agave syrup

1

tbsp

tapioca starch

Any starch should work.

1

medium

banana

I used a small/medium size banana.

3

large

eggs

1

pinch

salt

1/2

teaspoon

vanilla

1/2

cup

Nellie & Joe's Famous Key West Lime Juice

It sure is the best! If you don't have it available, I suggest 1/2 cup lime juice and substitute 1/2 tsp of lemon juice.
Instructions
Set your oven temperature to 350 degrees.

Get your blender out and ingredients.

Put in the blender all of the ingredients in order. Oat Milk, Agave Syrup, Tapioca Starch, Banana, Eggs, Salt, Vanilla, and Lime Juice.

Blend it until smooth which takes about 10 seconds.

Pour the mixture into the pie crust. It will be very liquidity and that's ok! You didn't do anything wrong. I promise it with thicken in the oven.

Place the pie into the oven for 50 minutes. The pie will start to brown around the outside and be jiggly and that's ok. After 50 minutes it will be a little jiggly in the center take it out and let it cool.

After a couple of minutes of cooling the center will start to get solid. Then put it in the refrigerator for 2-4 hours.